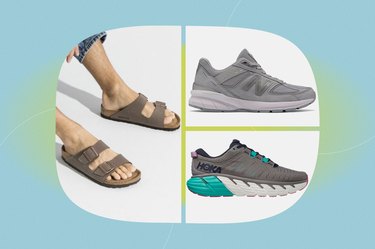 Many people think of arthritis as affecting the hands, knees or hips, but the painful condition can affect any joint in the body, including any of the 30 or so joints in the foot.
The most common joints in the foot to become arthritic are the big toe, midfoot and ankle joints, says Najwa Javed, DPM, podiatrist with Silicon Valley Podiatry Group and founder of E'MAR Italy. "Each one of these joint structures houses motion, and any limitation in movement affects the way you walk," she notes.
But the right shoe can make a world of a difference for people with arthritis.
"Adding stability and cushioning to an arthritic foot can change pain to comfort for a patient who's just trying to walk," Dr. Javed explains. "If the shoe is very flexible and soft, even though initially it can feel good, it causes more joint motion and increases pain and deformity over a period. So the best shoes have a stable sole (one that doesn't bend easily), a forefoot rocker (to take pressure off of the big toe joint) and a good heel counter."
The Best Shoes for Arthritis
We reached out to four podiatrists, who offered product recommendations and broke down what to look for in shoes that can help alleviate arthritis pain. We selected these products based on their criteria, including:
Fit
Arch support
Weight
Heel height
Why Are Certain Shoes Marketed to Men or Women?
Even though men and women are both susceptible to arthritic damage, the industry makes shoes marketed to the sexes differently. This, Dr. Javed explains, is because men and women tend to have different feet. "Women on average have a smaller and narrower foot type than men, while men have larger shoe sizes and need more depth in their shoes," she says. "Even within the same size of shoe between a man and a woman, the man will always need a wider, flatter, extra-depth shoe than a woman." The pressure distribution also tends to be different, Dr. Javed points out, with women having more pressure in the balls of their feet and men having more pressure in their heels and midfoot.
1. Best Overall: New Balance 990v5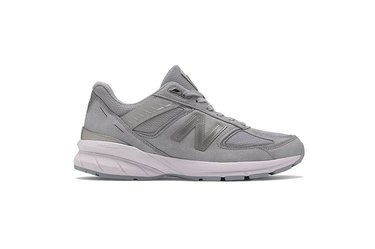 For more than 30 years, this exact style has reigned supreme in the New Balance catalog — and it's clear to see why. Not only has the shoe itself never gone out of style, but its almost perfect sole-to-forefoot rocker with an added midfoot stabilizer makes it the best stability shoe on the market, in Dr. Javed's opinion. "You can get anything and everything done in this shoe — you can even add custom orthotics for maximal support," she says.
A couple stand-out features that make this shoe so ideal for people with arthritis include its TPU "power strap," which adds stability along with its ENCAP midsole cushioning, which adds a lightweight foam that's not only comfortable, but super durable to provide all-day support.
2. Best for Walking: NAOT Galaxy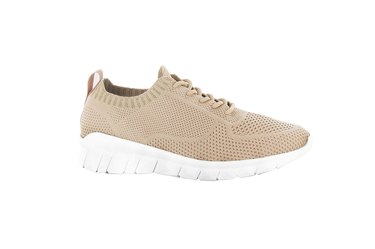 These are great lace-up shoes for everyday use, especially for someone with arthritis.
"They have a cork and latex footbed that provides great support through the arch and midfoot and a knit upper area that can accommodate bone spurs of the toes," explains Tim Oldani, DPM, podiatrist at Missouri Foot and Ankle in St. Louis. "For those that need even more support, this footbed can be removed and one's custom orthotic can be used."
3. Best for Running: HOKA Graviota 3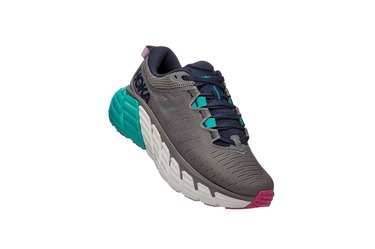 Designed specifically for running, the Graviota 3 provides a protective cushioning while maintaining a responsive toe-off for when you want to go faster, Dr. Javed says. "The shoe also contains the J-Frame technology designed to prevent excessive inward roll, or overpronation, without overcorrecting your gait," she says.
The shoe itself has received the American Podiatric Medical Association (APMA) Seal of Acceptance, which podiatrists recognize to be a superior promotion for good foot health.
4. Best for Rheumatoid Arthritis: OrthoFeet Quincy Stretch
One of the most common types of arthritis next to osteoarthritis (the "wear-and-tear" kind) is rheumatoid arthritis, an inflammatory type that can still affect the feet, notes Jackie Sutera, DPM, podiatrist and Vionic Innovation Lab Member.
Because rheumatoid arthritis often affects other joints, including the wrists, hands and knees, people with the condition may have trouble bending over and putting on their shoes. For this reason, a slip-on shoe like this one from OrthoFeet can come in handy.
It comes with premium insoles that provide ample cushioning, arch support and heel-pain relief.
​​​​Buy it:​ ​OrthoFeet.com (women's sizes 5-12); ​​​​Price:​​​ ​From $109.95
5. Best for Arthritis in the Big Toe: Hoka One One Bondi 7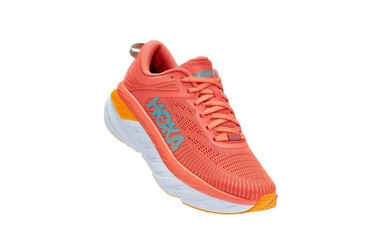 These are great running shoes for people with arthritis in their big toe, Dr. Oldani says. "They provide a rocker bottom sole and are the most cushioned shoe of the brand's road shoe choices," he notes. "They also have a roomy toe box to accommodate bone spurs at the great toe joint."
The breathable lining on this shoe helps prevent chafing, which can also help eliminate painful foot blisters that can occur after significant movement.
6. Best Sandals: Birkenstock Arizona
Founded in 1930, Birkenstocks have been a favorite ever since because of their unique footbed, notes Dr. Javed. "Each element of the footbed serves a purpose to encourage proper foot wellbeing and health, and the result is signature style coupled with all-day comfort."
Her favorite feature specifically for people with arthritis is the four-layered footbed, which provides optimal support and protection for the foot and helps reduce abnormal motion.
What to Look for in Shoes for Arthritis
Here are a few features to keep in mind when shopping for the best shoes to relieve the symptoms of arthritis.
Arch support is especially important when people have arthritis of the rear foot or through the arch, according to Dr. Oldani.
"Shoes with more cushion and stability through the arch will help minimize impact when walking or running, as the joints within the arch will have to move less which will lead to decreased pain," he says. "Also the added support through the arch will help dissipate force throughout the joints, especially when running."
Lightweight shoes will provide less support and stability than heavier shoes, Dr. Oldani says. For those with arthritic joints of the foot, he recommends heavier shoes, as they will usually be more efficient at minimizing pain.
"Lightweight shoes will have to sacrifice added stability and shock absorption, which is not a good combination for arthritic joints," he adds.
Surprisingly, very flat shoes are not recommended for people with arthritis.
"Everyday shoes that are worn often and for long periods of standing and walking should have a thick sole and preferably have a heel-to-toe drop, meaning that the heel and back part of the shoe is thicker than the front," explains Dr. Sutera. "High heels, however, are also not recommended for long periods of standing and walking and should be worn in moderation, if at all."
Durability is key when shopping for shoes that can help with arthritis.
"Shoes with good soles, robust uppers and those that are lightweight will stay structurally sound much longer than shoes that are flexible and too soft," says Dr. Javed. "You do not want your shoes to wear out quickly, as this can worsen the arthritis in your foot."
Comfort is always an important factor when shopping for a shoe, but especially so if you have arthritis.
"In arthritis, many joints become hypertrophic (enlarged and deformed), which can lead to bony prominences," says Dr. Javed. "If the shoes are tight and they are rubbing across the joints this can cause tissue injuries and pain."